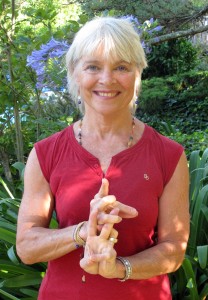 Susan Sattler is a practicing Marriage, Family Therapist who has spent 25 years helping people move toward greater wholeness and unity in their lives. She became a lineage-holder of mudras and mantras in the Vajrayana tradition of Yuan Miao while using them to fearlessly embrace impermanence and to heal from cancer. Devoted to these powerful practices, Susan now also teaches Eastern healing practices throughout California, and internationally for The New Century Foundation International. She recently spoke before 100 students in Beijing.
A Phi Beta Kappa graduate of Northwestern University, she earned her MA in education at Stanford University and taught high school for 14 years. She obtained a second MA in clinical psychology from John F. Kennedy University, with a focus on holistic studies. She subsequently taught psychology at the university level, designed a psychology module for an integrated wellness program offered in health clubs, and developed a private practice in Marriage Family Therapy.
Susan is a member of The California Association of Marriage and Family Therapists, and the Association for Meridian and Energy Therapies. She is also licensed by the state of California to practice hypnotherapy.
Susan lives with her husband, artist and designer Gary Newman, on two beautiful acres in rural Sonoma County, California. Nature lovers, they enjoy photography, and like to ski, backpack, hike, and swim. They have a son who is an architectural design major at Stanford University, and a daughter who works for an advertising agency in Kansas City.