December 2012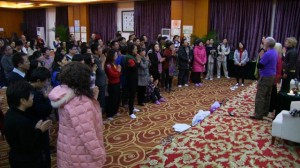 Susan has just returned from Zhanjiajie, China where she spoke to one hundred and twenty Chinese students who attended the workshop: Receiving the Messages of Guan Yin and Lao Tzu in the Land of the Dragons. Susan spoke about the interface of psychology and spirituality.
Beautiful Devi Yoga Studio was the site for a book launch and mini workshop on December 12. It was a magical day. A winter storm caused a power outage overnight so participants gathered by votive candle light and chanted and practiced mudras as the rain and wind blew outside – VERY cozy!! Two days later Susan boarded a plane for China where she would meet her teacher and assist with a workshop in Zhangjiajie.
---
October 2012
Susan has just returned from teaching a Fearless Way workshop in Orange County, and a four day retreat in San Diego. She will be appearing at a book launch and signing at Copperfield's Books in Sebastopol, California in November. Please check back for details.