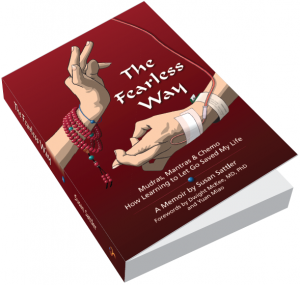 When Susan Sattler met Yuan Miao in 2004 after a client in her psychotherapy practice committed suicide, she had no idea how profoundly it would impact her life. Later, when Susan was diagnosed with non-Hodgkins lymphoma, Miao would reappear to offer her a set of Tibetan practices that would alter not only her health, but her view of life itself. In The Fearless Way, Susan takes us on her journey of discovery. She examines her family's roots among Midwestern pioneers and the hardships that led them to deal with issues of impermanence. When she faces her own challenge with illness, she must learn how to embrace both the best Western medicine has to offer while opening herself up to the healing joy of surrender in the practices she learns along the way.
Includes eight illustrated mudra/mantra exercises you can do
to help you be Fearless.